Steel Framed Buildings Supplied in the UK

https://www.springfieldsteelbuildings.com/

STEEL FRAMED BUILDINGS THROUGHOUT THE UK

Our Focus

Springfield Steel Buildings was established in 2005 with a simple goal, to provide a high quality service that you can trust. Services ranging from small scale extensions to full scale design and build developments.

We pride ourselves in being highly competitive without compromising any loss of quality in our buildings or the service we supply to our customers and continually strive to be great place to work for our employees.

We work hand in hand with clients to understand their ideas, enabling us to deliver the best possible service, on time, on budget and safely.

As Springfield Steel Buildings have been in operation for over 15 years with a vast array of returning customers you can rest assured we have your best interests at heart.
https://www.youtube.com/@Springfieldsteelbuildings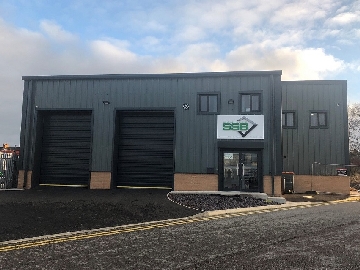 PROFESSIONAL INSTALLATION

We have a vastly experienced team of Engineers, Contracts Managers and Site Foreman that have many years of knowledge and expertise in the construction industry. This ensures that each and every project is carefully thought through, delivered on time and within budget.

Our Health &amp Safety record is the reason we have a very established and very strong client base with repeat national and international orders on a regular basis. All steel structures should be both netted and have a handrail installed as per FASET guidelines to protect the employee, employer and client.

At SSB all our steel erectors and cladding operatives are full time employees with training and knowledge in the safe, correct construction of our innovative Steel Framed Buildings.

All Site operatives are CSCS and CCNSG Safety passport certified with the appropriate tickets in the use of Mobile Elevated Working Platforms. Site supervisors have all passed the CITB - SSSTS and have attended a three-day emergency first aid course.

QUALITY ADVICE

With a combined construction knowledge of over 60 years we are able to provide our customers with quality advice and guidance on any project. We pride ourselves on specialising in offering our customers much more than just a steel framed building.

Should you require a turn key package we can supply you with detailed costings for groundwork's, drainage services, brickwork and block work, internal joinery works, plumbing and electrics along with the supply and installation of the steel framed building and cladding.

The benefit of building in steel and using a steel frame is that the portal frame allows wide or high spaces to be spanned without interior walls or pillars giving open, accessible storage spaces able to take wide-winged aeroplanes, bulky farm machinery, or tall-masted boats.

Better still, portal frame construction means reduces both building costs and construction times but with greater durability and lower maintenance costs. Steel buildings means better buildings, in less time, at lower cost.

3D DESIGN

Our technical department can produce a 3D concept drawing and plan for your site. Offering a detailed yet easy to read model of the building, this enables us to provide a fixed price for your project. This saves on the expense of architects at the costing stage as our drawings could be used for planning etc.
Should you require any further information regarding the construction process we have created an article to clarify a few points you may have.

UK DELIVERY

Free UK based delivery available on our full range of buildings including Aircraft Hangars, Industrial Steel Buildings, Commercial Steel Buildings and Workshop Buildings.

Not mainland UK? Not a problem. Contact the office to see how we can help.

CONTACT US

Invest in a company that has a reputation for supplying and installing high quality cold rolled and hot rolled structures throughout the UK, contact Springfield Steel Buildings or give us a call on 01482 304504.